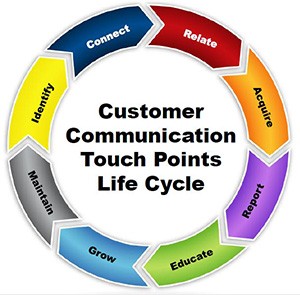 Today, there is a fast-growing movement among organizations interested in improving their customer-centricity through a better understanding of customer interactions, or touchpoints. Called "Customer Touchpoint Management" (CTM), the goal of this new movement is to improve customer experiences, and as a result, improve customer relationships. By improving customer relationships, organizations improve market share, sales, and both customer and employee loyalty and advocacy.
But what exactly is a touchpoint? A touchpoint is defined as all of the communication and interactions your customers experience during their relationship lifecycle with your organization. Communicating with customers through a statement, invoice, website, sales person, or email blasts; touchpoints are important because customers form perceptions of your organization and brand based on their cumulative experiences. Communication touchpoints to attract new customers include activities that identify, connect, relate and acquire. Communication touchpoints for current customers include, reporting, educating, growing and maintaining.
These days, marketers understand that customer relationships can no longer be considered exclusively the domains of sales and customer service. Organizations are more effectively using statements, notices, ad campaigns and web-enabled programs to maintain and grow business and brand loyalty. CTM-oriented organizations know that they can best enhance relationships with customers by improving touchpoints across the entire enterprise. Vision Marketing specializes in helping businesses communicate more effectively with their customers or potential customers.
To learn more, drop us a note at: support@visionmarketingco.com