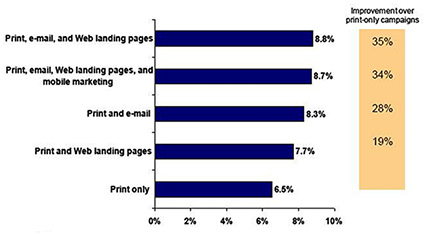 In a challenging economy, corporate businesses are seeking new ways to reduce costs, increase revenues, and improve their overall marketing efforts. They are turning to focus on their core competencies and looking to outsourcing partners for process efficiency savings and cost reductions. Organizations need to market their capabilities and ensure a solid awareness of their products and services. Effective business communication has never been more important and they are searching for partners that provide Web-based, multi-channel solutions with returns on investment (ROI) that can be measured.
In addition to creating effective communications, marketers are also trying to do more with less. In a survey conducted in 2009, 42% of marketers said they were reducing their 2009 budgets and another 30% said they were reallocating their 2009 budgets for a different media mix. Events and campaigns that are not tied directly into integrated communications solutions, has been eliminated. Outsourcing has always been viewed as a means for organizations to reduce costs, but it is now recognized as a growth tool for business. Document Process Outsourcing (DPO) takes outsourcing solutions to a new level. With DPO, outsource providers meet core service level requirements that include metrics like quality, throughput, cycle time, regulatory compliance, and customer satisfaction.
Vision Marketing Communications, along with our offset printing company Vision Press, can help businesses enhance their marketing efforts by migrating to multi-channel communications, optimizing their internal production workflow, or moving the process to a hosted off-site solution. Our multi-channel communications abilities, can assist by incorporating messages into documents delivered via multiple channels, including print, e-mail, and Web communications.