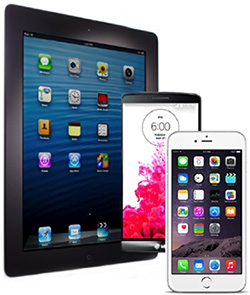 Consumers have been conditioned to seek out mobile apps for all aspects of their lives, including interactions with the companies they do business with. Consider this: there were over 50 million new iOS and Android devices activated worldwide during the last week of 2012, which is up from 20 million for the same period a year earlier. It is obvious that changing consumer demands is driving the need for mobile delivery of customer communications.
The Business Need for Mobile Apps
Consumer expectation today is that apps are available for all types of businesses–and apps are not the same as mobile-friendly websites, as these are two different consumer needs. The scramble and frenzy for creating mobile apps by businesses today is very similar to the rush to develop websites by businesses in the mid-to-late 1990s with the explosion of consumer access and utilization of Internet. Recent research on the customer communications market, identified the top five enterprise priorities for the business community in this space for the next 12-24 months.
Top 5 Enterprise Priorities for Customer Communications:
1. Increase data security measures
2. Upgrade data analytics technology and services
3. Develop mobile apps as a component of a multi-channel communications strategy.
4. Enroll customers in paperless transaction communications: statement & notices
5. Better management of the end-to-end communications lifecycle
Businesses must have a mobile app strategy in place to keep pace with consumers' preference for mobile communications, but mobile app development can be a costly endeavor—not only to build, but also to maintain.